This tutorial is the definition of "quick and dirty." Possibly it's the shortest tutorial I've ever written. First, though, I have to give a shout-out and credit to
girlnamedpixley
, who was awesome enough to introduce me to a new and different way of using Photoshop filters to achieve a painterly/mixed-media effect with a photo or screencap. I took it and ran with it in a couple of pieces, and am enjoying it immensely. I think it would be great for artists who are trying to stretch beyond their usual set of Photoshop tools (we all have our favorite features, don't we?), or for beginners who are ready for the next step.
This tutorial can be laid at the feet of
ran_cl
and
uglybusiness
, who asked ♥
Okay, down to business. Today, we are making this: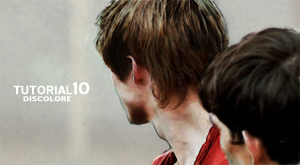 .zip file:
here
. As always, the .zip file includes: the source image, copies of all the layers, the final result, a screenshot of the layers palette (for those with no CS4 compatibility), and a .psd.
.caveat
This tutorial is really only an introduction to a method; the steps you take and the way you take them (blend modes, blurring, erasing, desaturating, everything!) will change a lot depending on the source material you're starting with.
Software
: PS4, but translatable to earlier versions of PS (to PS7, at least)
Difficulty
: Beginner/intermediate. You need to know basics like cropping and how blending modes work, how to use the eraser and smudge tool. That sort of thing.
(
Collapse
)